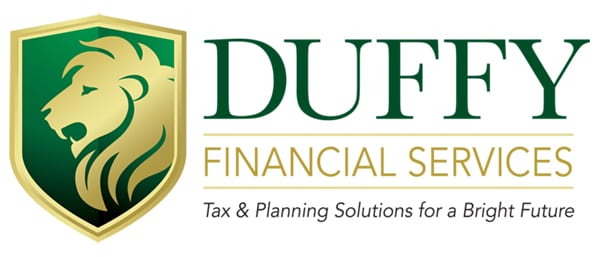 PROFESSIONAL GUIDANCE FOR
Financial Success
Put your Matters in the hands of Proven Experts
Tax Problem Solving for a Bright Future
At Duffy Financial Services our main focus is to reduce our client's stress relating to finances. Through education, honesty, integrity, and respect for the taxpayer we will provide the solutions to handle your tax problems and increase your net worth to help you live comfortably and successfully.
Tax Disaster Management
"Liens, Levies, Notices, Garnishments, Audits —
HELP!" We'll make sure any tax situations have the best possible outcomes.
Keep the Government Off Your Back!
Don't get caught short with an unexpected big tax bill! Expert prep of Federal, State, Corporate, Sales, and Payroll tax & compliances.
Money-Saving Tax Strategy
We're experts at integrating and coordinating business and personal taxes so you're not mistakenly thowing money away!
No Worries — Taxes Done Right!
Annual tax filing doesn't have to cause stress. We'll prepare your returns correctly, file on time, and offer advice if you owe.
Grow Personal Net Worth
Pro advice for using your business to grow personal net worth via retirement plans, benefit plans, life insurances, and more!
Advanced Strategies for Expansion
Now that your business has grown, what should you be thinking of to help the future of your family and community?
RESULTS
Our Clients Are Talking!
easy to reach; available for questions
"I can reach anyone in the office with a quick phone call. Everyone is friendly and the accountants are always there when there is a problem that needs resolving."
J.B.
a complete understanding of your business
""Duffy Financial Services goes beyond accounting; they take the time to understand our business and, more importantly, our goals. Sean Duffy and his team have proven to be an invaluable resource. We truly consider them to be far more than a partner — they are an extension of our company itself."
P.O.
A full range of services
"Sean's staff and services professionally cover everyday items, monthly reports, and long-term projections and planning. I am comfortable and confident in all aspects of Duffy Financial Services." 
R.M.
service beyond accounting
Your Net Worth Is Our Primary Focus
Duffy Financial Services wants to help you advance your net worth using all the tools that the tax and investment world can offer. We offer help with retirement plans, trusts, insurances, investments, government loan programs and more. To help clients as best we can, we have studied and received a financial planning certification, and a life insurance license. We have extensive training in college financial planning, as well as buying and trading stocks. The background and certifications of our accountants allows us to have educated conversations with clients and help rectify unclear financial advice they may have heard along the way.
Call or Schedule a Consultation
Fill out our Contact Form or call today to schedule a consultation with one of our tax pros.
908.889.4604